KIT CONTENTS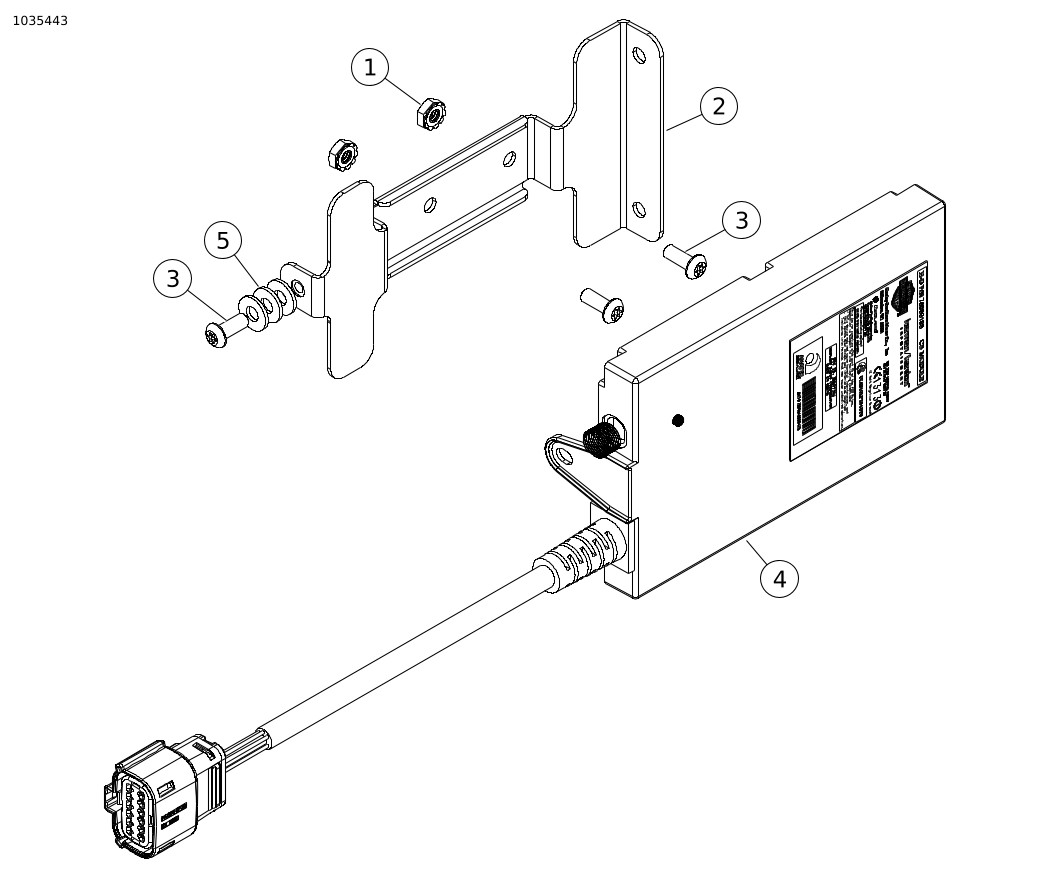 Figure 1. Boom! Box CB Radio Components
| | Item | Qty | Description | Part No. | Notes |
| --- | --- | --- | --- | --- | --- |
| | 1 | 2 | Keps™ nut | 7838 | |
| | 2 | 1 | Mounting bracket | 57000247 | |
| | 3 | 3 | Screw | 2478 | 2.8–4 N·m (25–35 in-lbs) |
| | 4 | 1 | CB Module | Not Sold Separately | |
| | 5 | 3 | Washer | 6716 | Fork-mounted fairing models only |
NOTE
Verify all contents are present in the kit before installing or removing items from vehicle.
NOTE
This instruction sheet references service manual information. A service manual for this year/model motorcycle is required for this installation. One is available from a Harley-Davidson dealer.
GENERAL
Models
For model fitment information, see the P&A Retail Catalog or the Parts and Accessories section of www.harley-davidson.com (English only).
Contact Harley-Davidson Customer Support Center at 1-800-258-2464 (U.S. only) or 1-414-343-4056.
Installation Requirements

WARNING
Rider and passenger safety depend upon the correct installation of this kit. Use the appropriate service manual procedures. If the procedure is not within your capabilities or you do not have the correct tools, have a Harley-Davidson dealer perform the installation. Improper installation of this kit could result in death or serious injury. (00333b)
These items are available at your local Harley-Davidson dealership.
2014 and later Touring and Trike models: Separate purchase of CB antenna (Part No. 76250-09 or 76386-09A) is required for this installation.

2014 and later Touring and Trike models without a PTT button: Separate purchase of right hand control module (Part No. 71500130C) is required for this installation.
A radio software update is needed after installing the CB module for the system to perform properly. See a Harley-Davidson dealer.
2019 and later Trike models will re-use the
OE (Original equipment)
Hazard/Start/Reverse cap on the new hand control.
Electrical Overload
NOTICE
It is possible to overload your vehicle's charging system by adding too many electrical accessories. If the combined electrical accessories operating at any one time consume more electrical current than the vehicle's charging system can produce, the electrical consumption can discharge the battery and cause damage to the vehicle's electrical system. See an authorized Harley-Davidson dealer for advice about the amount of current consumed by additional electrical accessories or for necessary wiring changes. (00211c)

WARNING
When installing any electrical accessory, be certain not to exceed the maximum amperage rating of the fuse or circuit breaker protecting the affected circuit being modified. Exceeding the maximum amperage can lead to electrical failures, which could result in death or serious injury. (00310a)
The CB Radio requires up to 2.0 Amps additional current from the electrical system.
SWR ADJUSTMENT
Standing wave ratio (SWR) is a technical term for the procedure that checks how well the CB transmitter and antenna are matched. If poor CB reception or transmission is noticed, the SWR should be checked.
To check SWR, an SWR meter or bridge is required. A Harley-Davidson dealer will either have an SWR meter and the appropriate adapters, or can direct you to a CB repair shop for an SWR check.
Since the operating procedures for SWR meters vary, be sure the operating instructions for the SWR meter being used are carefully followed.