WIRELESS HEADSET
Read the Quick Start Guide for additional information pertaining to the wireless headset operation. Also see Harley-Davidson.com for the latest version of User's Guide and related information to Boom! Audio Bluetooth products or visit your local Harley-Davidson dealership.
Getting Started
Charge the wireless headset. The LED turns red while the headset is charging and turns blue when it is fully charged. It takes about 2.5 hours to charged completely.
Headset Software Version
The BOOM! AUDIO 10S BLUETOOTH HEADSET supports firmware upgrade function. Visit
www.harley-davidson.com
to check for the latest software downloads.
Headset and Clamp Unit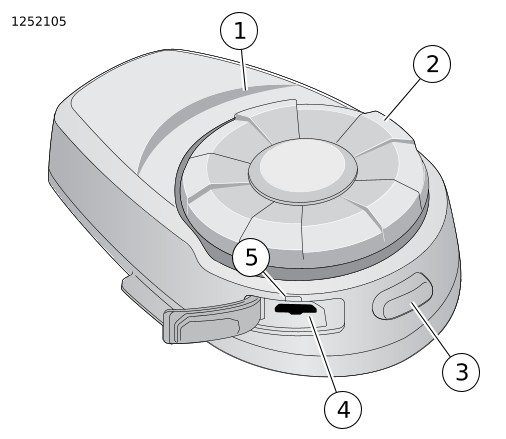 | | |
| --- | --- |
| 1 | Status LED |
| 2 | Jog dial |
| 3 | Phone button |
| 4 | DC Power charging and firmware upgrade port |
| 5 | Charging LED |
Figure 1. Boom! Audio 10S Headset Layout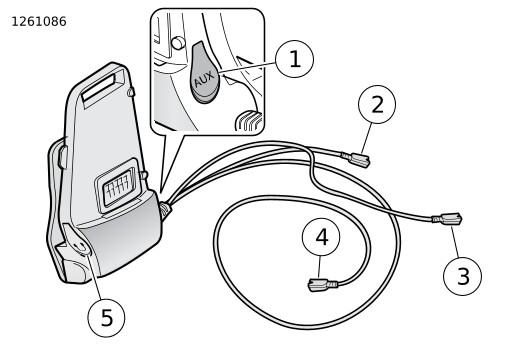 | | |
| --- | --- |
| 1 | MP3 Port |
| 2 | Microphone connector |
| 3 | Left speaker connector |
| 4 | Right speaker connector |
| 5 | Earbud port |
Figure 2. Boom! Audio 10s Headset Clamp Unit
Item

Description

Function

1

Status LED

Red and blue visual confirmation

2

Jog dial

Answer and end a mobile phone call

Reject an incoming mobile phone call

Start and end an intercom conversation

Volume adjustment by rotating

Play and pause Bluetooth stereo device

Track-forward and track-back by rotating while pressing the button

Enter into intercom pairing mode

Enter into voice configuration setting

Navigate through configuration menu

Seek FM radio station

3

Phone button

Answer and end a mobile phone call

Speed dial

Call transfer between mobile phone and headset

Enter into mobile phone pairing mode

Enter into Bluetooth stereo device pairing mode

Enter into factory reset mode

Turn on/off FM radio

4

Charging and Firmware Port

Plugged into a computer's USB port

USB-equipped AC adapter via a wall-outlet charger

5

Charging LED

Charging LED turns red while charging and turns blue when fully charged.
Headset Configurations
NOTE
The wireless headset must be turned on and paired with the system for the following configurations to appear on the touchscreen.
All configuration settings are saved within the headset. Therefore these settings will impact every paired device to the headset.
The10S has 7 configuration settings that can be accessed though the Boom! Box Infotainment system.
Navigate: Home > Setup > Wireless Headset > Manage Rider or Passenger Headset > Config.
SideTone: Sidetone is the sound of your own voice as picked up by your headset's microphone and reproduced in your own ear, by your own speaker. It helps you to naturally speak at the correct level according to varying helmet noise conditions. If this feature is enabled, you can hear what you are speaking during an intercom conversation or a phone call. This factory setting is disabled.
Voice Prompt: You can disable voice prompts, but the following voice prompts are always on:
Voice prompts for configuration setting menu

Voice prompts for battery level Indicator

Voice prompts for factory reset

Voice prompts for speed dial

Voice prompts for FM radio functions
Adv. Noise Control: When Advanced Noise Control is enabled, the background noise is reduced during an intercom conversation. When it is disabled, the background noise is mixed with your voice during intercom. This factory setting is enabled.
VOX Phone: If this feature is enabled, you can answer incoming calls by simply saying a word loudly enough, unless you are connected to intercom. For example, when you hear a series of beeps for an incoming call, you can answer the phone by saying Hello or any other word loudly. However, the VOX Phone feature does not work if you are connected to the intercom. This feature is enabled from the factory but can be disabled through the configuration menu, Device Manager, or the Sena Smartphone App. If this mode is disabled, you have to tap the Jog Dial or the Phone Button to answer an incoming call.
HD Intercom: HD Intercom enhances the two-way intercom audio from normal quality to HD quality. HD Intercom will become temporarily disabled when you enter into a multi-way intercom. If this feature is disabled, the two-way intercom audio will change to normal quality. This factory setting is enabled.
Radio Data System (RDS) Alternative Frequency (AF): RDS AF allows a receiver to re-tune to the second frequency location when the first signal becomes too weak. With RDS AF enabled on the receiver, a radio station with more than one frequency can be used. Factory Default is disabled.
VOX Intercom: Voice Activated Intercom. If this feature is enabled, you can initiate an intercom conversation with the last connected intercom friend by voice. When you want to start intercom, say a word such as Hello loudly or blow air into the microphone. If you start an intercom conversation by voice, the intercom terminates automatically when you and your intercom friend remain silent for 20 seconds. However, if you manually start an intercom conversation by tapping the Phone Button, you have to terminate the intercom conversation manually. However, if you start intercom by voice and end it manually by tapping the Jog Dial, you will not be able to start intercom by voice temporarily. In this case, you have to tap the Jog Dial to restart the intercom. This is to prevent repeated unintentional intercom connections by strong wind noise. After rebooting the headset, you can start intercom by voice again.